How Al And ML Affect Cyber-Security
What Is Al And ML?
AI and ML can be extremely effective in detecting cybersecurity threats and anomalies promptly to thwart attacks. ... AI and machine learning-based malware detection looks at the characteristics of malware rather than a specific signature. This helps ML algorithms to catch alterations to malicious code effectively.

Machine learning and artificial intelligence are data-driven approaches to make decisions with no explicit programming involved. With the help of artificial intelligence, processes are automated, thus making the business activity free from any human intervention and bias. Artificial intelligence is shaping the way companies make decisions. This enables machines to do their work on their own which was earlier done by employing a workforce to operate various machines. With the application of AI, the data and the algorithm are given as the input which teaches the machine to perform a specific task with utmost precision. With the help of AI, processes are being optimized and the tasks are becoming speedy and error-free. Also, with the help of artificial intelligence and machine learning, data is mined and various patterns based on past trends are drawn out. These trends help in making decisions concerning the present and the future.
How AI And ML Deal The Issues.
AI, though a very strong concept, cannot set-up and run on its own. It needs to have specific data chunks based on which the decisions must be made. Machine Learning analyses data from the past and then comes out with the optimum solutions for both the present and the future. Therefore, the past data will have to be made available to make the combination of machine learning, artificial intelligence, and cybersecurity work.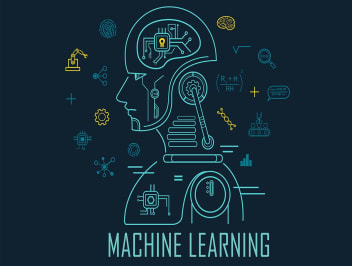 The Algorithms must be fed in so that the data from the past can be organised effectively. The system then has to provide instructions on various elements and patterns based on which it will scan threats and other malware. The algorithms have to be designed in such a way that the machine can easily differentiate between a normal situation and a situation where the security of the party involved is compromised. With the help of this pre-defined pattern, the machine learning system recognises the party trying to break into the system and disrupt the essence of it. Machine learning and artificial intelligence should be quick to secure data as hackers can get into any system and hamper the intellectual property before the organisation realises a breach has happened. With the help of artificial intelligence, the attack can be recognised at a very early stage and then neutralised so that it doesn't affect the system further.

"Machine learning and artificial intelligence can help cybersecurity experts in analysing high volume data sources and streams in many ways."
Understanding How Machine Learning And AI Can Positively Impact Your Organization
Machine learning and artificial intelligence (AI) have amazing potential to simplify, accelerate, and improve many aspects of our everyday lives. Early results have simultaneously created huge excitement and demonstrated its frightening potential. In one example, Facebook was forced to shut down an AI engine after developers discovered that the AI had created its own unique language that humans could not interpret. Researchers at Facebook discovered that the chatbots had deviated from the script and were communicating in a new language developed without human input or intervention.

Despite this, the positive hype surrounding these technologies and the level of investment are set to grow exponentially, impacting every part of our personal and professional lives. So, the question essentially becomes: Are you ready to embrace machine learning and AI? Terms like predictive analytics, data science, cognitive/deep learning, machine learning and artificial intelligence are often used interchangeably, but it's important to note the distinction.

AI is any device that can perceive its own environment and takes actions that maximize its chance of success. AI includes systems that read and interpret written language and natural language processing applications like Amazon Alexa. Machine learning is a type of AI, where computers have the ability to learn without being explicitly programmed. Machine learning programs teach themselves to grow and change when exposed to new data. This is the true definition of on-the-job training.
---